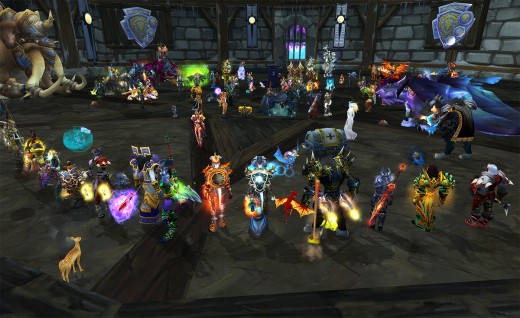 This is a blog post brought to you by a project organized by Sheep the Diamond on collectivism in MMORPGs. If you'd like to read his thoughts on the idea, as well as a cursory overview on collectivism itself, check it out here. Other Collectivism project post on WoW is from Troll Shaman, "And Why Should I Care What Happens to You?"
I feel the eternal struggle in a harsh world such as ours is between protecting and furthering the interests of one's own self and the potential interests of others. Right now, I don't think we're realistically at a place where we can achieve the ideal of collectivism overnight. However, I believe it is something we should strive towards in the coming years. But what if we could shrug off the pressures of a more rugged individualistic and capitalist society in a virtual world? Would that make collectivism possible? I believe it does. Enter my World of Warcraft guild.
Collectivism is any philosophic, political, religious, economic, or social outlook that emphasizes the interdependence of every human being. Collectivism is a basic cultural element that exists as the reverse of individualism in human nature[…]and stresses the priority of group goals over individual goals and the importance of cohesion within social groups (such as an "in-group", in what specific context it is defined). Collectivists usually focus on community, society, or nation. It is used and has been used as an element in many different and diverse types of government and political, economic and educational philosophies throughout history including democracy, totalitarian nationalism, monarchy, socialism, and communism.
A place like World of Warcraft makes enacting something like collectivism a lot easier since a lot of our concerns that we as people face in our lives evaporate - shelter, health, family, work. It is a lot easier to make money in World of Warcraft and share this wealth without the worry that someone might end up starving or hurt if we fail to use our resources correctly. At worst, we have to take another trip to the Auction House or repair our gear. It makes it easier to use our time and resources towards helping a group  and working collectively without risk to ourselves.
As Sheep pointed out, WoW is not geared towards group work as much anymore, if it ever was at all. A lot of player achievement can be attained through personal goals and thinking of oneself only; the bastion of group resources has been and will always be a guild. Ever since Blizzard introduced guild perks and rep, this has become much, much more apparent as well. Many of the structures that the game has introduced to make guilds important emphasizes collective thought. However, much like my feelings on hate language and respectful guild culture, I believe that collectivising your guild (and my guild) takes some work. Often the most ideal "conditions" for sharing and group culture is just that you find a guild that all really wants to help one another.
Enter my guild: we are a group of people that has, over time, slowly become more and more collectivist. Was this entirely planned? Probably not. The efforts of our mutual generosity and tight social structure has just born fruit. We have similar ideas on the values and identity of our group as well as the goals we wish to work towards. People's projects can be organized and supported by any and all members of the guild without hierarchical stress (most of the time) and everyone's contributions can be put towards the greater pool.
It is easier to talk about this stuff in abstract, but lets have some examples of what I really mean when I talk about contributions, resources and efforts.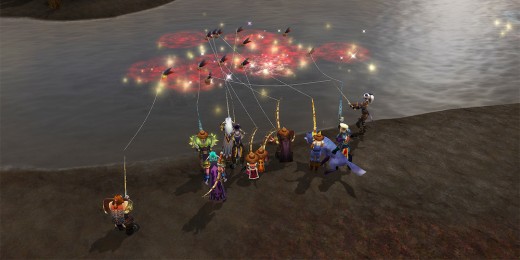 What Blizzard Did:
Cash Flow: This perk alone fuels a collective pool of money by "force." I could talk endlessly about this one mechanism and what it means towards group capital and guild power, but I'll spare you guys for now. Allowing everyone in the guild to have their solo or group play give back to the guild is pretty essential. However, it is triggered automatically and isn't subtracted from a person's personal earnings, but generated over top of what they collect themselves, making this slightly more "fair." However, the time and work put in to complete quests is still valuable.
Guild Challenges: Money earned from collective group play in PVP, raids and instances means more collective resources.
Guild XP is earned by all members of the guild. Higher level perks are achieved by the work done by all.
Guild recipes are earned by collective tradeskill use or achievement such as the Seafood Magnifique feast.
Guild rewards are earned the same way.
Mechanisms like Have Group, Will Travel (RIP) and Mass Resurrection allow any player within the guild to summon or revive a fallen comrade. Granted it doesn't necessarily have to be a guild member, but it is definitely oriented towards group play.
What We Did:
People can put in and remove materials from the guild bank. We have tabs for crafting, gear/bags, consumables, reputation/holiday items, glyphs, and raiding materials. There is an officer's tab that is locked, but every other tab can be added to or withdrawn from.
Any guild member can organize and create events on the guild calendar.
Guild money is put towards repair bills (150G daily cap), purchasing additional materials for things such as consumables and bags. We've also helped people pay for flying skills as well.
Rules are relatively fixed, but they are actively enforced by all members of the guild in terms of calling out and discussing problematic behaviour. The roots of things set down in our rules and modes of conduct are things that we as a group have agreed as being important to us.
No set method of contribution: everyone is allowed to do what they do "best" and give towards the guild in that way. Some people are really into fishing, so they are happy to fish up stuff for feasts. Some members are avid gatherers. Some are good at finding best pieces of gear for transmog outfits and share knowledge. Others share knowledge of raid strategies. Some are good at leading people in group dungeons. Everyone has something unique and purposeful to contribute so we don't limit what people can and cannot do for the group.
Excess guild bank materials are auctioned off and put back into the guild funds.
All of these examples are just to illustrate what is at work here. The real driving force behind most of this, especially within our guild is putting the group ahead of the individual. However, everyone is unique.  No one has to be interested in the same things in WoW, or have a specific task they need to do. They are allowed to create goals and everyone pitches in to help as they see fit according to their time, desire and energy. Our guild activities seek to benefit people:  raids to get people gear, group content for pretty vanity items and mounts, and events to cheer people up.
Horizontal vs. Vertical Collectivism
While most of our guild functions collectively along the horizontal (the group decides how to organize collectively), the structures put in place by Blizzard with regards to the guild does lend itself to some level of vertical collectivism (hierarchies determining collective efforts). We do have a guild leader (myself) as well as a couple of officers. We serve the guild but also do things like lead the guild and enforce the rules above and beyond the group's ability to self-police. One of our officers is the raid leader and she takes everyone's wishes into account with regards for raid composition, scheduled days for raiding and the like. Hierarchy within a mostly horizontal collectivist group is unavoidable in a game that forces it by nature. However, we do try to steer clear of deciding everything for the group rather than letting everyone have a share in what is done about the guild.
Everyone Can Do This
Group action and recognizing interdependence on each other within the gaming world is a really important thing to me as I've found out. And it is something I believe anyone can do, even when it looks like our Azeroth is founded on the principles of but a few self-interested individuals. Banding together with a group of friends and making sure they are taken care of before myself has been a real eye-opener in terms of identity and group dynamics. You will not lose yourself if you active collectively; collectivism does not ask anything of the individual in terms of stripping away the things that make us unique. It only asks that we use the things we are good at to help each other out. Being taken care of becomes easier when everyone is looking out for everyone else and the dread and the fear that we are left behind if we do not fend for ourselves slips away. I know that WoW is merely a game but it can be a good place to learn and teach the ways of collectivism in an environment that is low on risk. I know that it has been comforting to me knowing that there is at least one place where I can help out and be helped in return. I have no problems spending my time doing things for others because it helps us all succeed. It makes me feel good at the end of the day, especially in the face of such bleak reality when it comes to stuff like this.
Don't be afraid to collectivise your guild. Don't be afraid to take care of the people within it. We all have something to do, something to give. If our guilds are important to us, then let's give it our all to make them the best they can be.