Guides as Blog Posts:
Levels 41-50
Levels 51-60
Levels 61-70
Levels 71-80
Levels 81-90
Guide in Text Format:
I've made all the level headings as jumps, in case you need to find a particular chunk of the text quickly:
Levels 41-50
Levels 51-60
Levels 61-70
Levels 71-80
Levels 81-90
You created a mage! Congratulations! What do you do now?
Starting a mage from scratch, especially when you may have not played a caster before, can be a little confusing. Hopefully this series of guides will help you understand mages a little better as you are leveling them. It is pretty fast work these days to get a character to 90, so I don't need to tell you necessarily where to go, but giving you some pointers on talents and spell choices, plus some mage tips might turn you into better "career" mages and make the leveling experience more fun.
When I roll a new character, what I like to do before literally anything else is make sure my bars are set up. Put any guild perks (if you are in a guild) or racial skills (like Will of the Forsaken or Every Man for Himself) on your bars. I'll talk about keybinding a little later but for right now, put these out on your bars or hidden somewhere if you use them regularly.
Blizzard's done a really good job of trying to prepare mages early on with learning the sights and sounds of their class – this includes giving you a mixture of spells to use early on.  Your very first spell at level 1 is Frostfire Bolt. This is a really interesting choice as that spell is only used by frost mages later on in the leveling. But is nice for practicing using a primary "nuke" (longer cast filler spell that will be your bread and butter) and it comes with a slow built in, which is nice.
Having the choice of keeping a mob crawling along after me makes it easier to keep them away. I can also pull more than one mob at a time if I don't feel I'm going to get overrun. A really good set of skills to start practicing now, little mages, is how to cast while just barely facing a mob. It is an essential ingredient of kiting later on. You turn yourself sideways, just enough that you still have facing on whatever you are targeting and can shoot a spell. Then continue running, using instant cast spells (like Fire Blast at level 5) and Frostbolt again when you're a safe distance. Immediately after getting starting, you get Frost Nova (level 3).  Your first snare! Huzzah. This makes kiting easier and will also help with AOE-mob-grinding at higher levels if you choose to go frost.
At very low levels, you are just a glorified bag of meat that shoots magic out of your hands occasionally. I didn't die too many times while starting out, but the possibility of being overwhelmed by more than one mob when you're questing will ultimately kill you. This is why having a snare and a slow right away is useful. But it all changes at level 7 when you get your first utility spell:  Blink. This is easily your best way to escape a bad situation. Pull too many mobs? Frost Nova them and Blink away to safety!  It can also be used to save you from an accidental fall if you choose to use it right before you make a mage-shaped crater into the ground.
The first ten levels gets rounded off by Counterspell at 8. This interrupts spellcasts from monsters or other players. This is such a marked difference over leveling back in vanilla. You had no way to interrupt caster mobs (which there were many) early on in the game.  You just had to hope you could survive. Giving casters tools like snares and interrupts this early makes the game a lot more fun.
Learning how to interrupt on a dime is crucial! Sometimes you will have to stop DPS immediately and interrupt something in dungeons and raids. It does lower your DPS if you have a tendency to "hammer" an interrupt like I do, but hopefully you'll get used to it and have it as a reflex. Mages who can successfully interrupt make more money, lead better lives and have more friends (maybe.)
This macro allows you to Counterspell a mob even if you have something focused, or only Counterspell your focus target. This is handy when you can Polymorph:
#showtooltip
/stopcasting
/cast [@target,mod:alt] Counterspell
/cast [@focus,exists,harm] Counterspell; Counterspell
When you hit level 10, you gain the ability to pick a "specialization." This is basically what kind of mage you will be - you have access now to spells only your kind of mage can use. I picked Arcane Specialization. You can go to the specialization page (default to access this is "N") and see what spells you will be learning or what will be changing:
I immediately learned Arcane Blast; fire mages will be learning Pyroblast, and frost mages can summon their Water Elemental pet.  For fire mages specifically, your Fire Blast is now a spell called Inferno Blast and you learn it at level 24.
Helpful Tips:
If you are unsure about what your spells are used for, check your "Core Abilities" tab in your spellbook, they give advice on when to use a spell.
Spells are now instantly learned, so when you hit a new level, just open up your spellbook and drag it onto your bars.
If you don't like your Specialization, you can change it at any time with a mage trainer.
Mages have changed a little bit since Mists of Pandaria - we can now use wands as main-hands, some talents have become specialization spells, and Arcane specialization uses "charges" now as a resource.
Don't get frustrated if you die a lot in the beginning, trying new things is what makes you better!
At level 10, you can now queue for battlegrounds.
Levels 11-20
It's really unusual that, even without heirlooms, I can break 100 DPS no sweat. Back in my day, 300 DPS at level 60 was "doing really well." Now that we're actually starting to get into the meat of leveling, I figured that I ought to break up the guides into sections for ease-of-use. Hopefully you'll find this a bit more useful if you just need help with one specific part of leveling in each block.
Spells
11 through 20 gives you another block of very important utility and resource skills that as a mage; spells you should become accustomed to using. At level 12, you get your second specialization-only spell (Arcane Barrage/Fireball/Frostbolt). Fireball and Frostbolt are your main "nuke" spells in that they are what you will be casting a good majority of the time. They are a decent chunk of your damage.
Arcane Barrage however is slightly different. Arcane Blast is the main nuke for Arcane spec, and Barrage is our secondary - how it works is that it clears all your current Arcane Charges, but each charge you have when you cast it increases the damage it does, as well as hit the same number of mobs in a small radius. So, for example, if you use Barrage when you have 4 charges, it will hit 4 targets around whatever you are casting at currently (if there are that many mobs) for 50 percent of the damage your Barrage hit for. It's a very nice brainless way to do AOE damage at early levels.
Polymorph is level 14 and is your first real crowd control. While Polymorph does tend to vanish at the drop of a hat if someone even so much as LOOKS at your sheep, it is considered one of the more prized crowd control abilities in that is it easily renewable and has no cooldown. A good mage will master the art of keeping a focus target sheeped and being able to polymorph on the fly and I will give you a great macro for how to do that:
#showtooltip 
/stopcasting
/clearfocus [mod:shift]
/focus [@focus,noexists]
/cast [@focus,exists,harm] Polymorph
This macro does a couple of things right off the bat – first, it stops your cast (meaning you can sheep on the fly if need be), secondly, it sets a focus if one does not exist already, and it casts Polymorph. It is going to set whatever you're targeting and sheeping as your focus, so keep in mind that if you need to swap your focus/sheep target, you press the macro while holding down your modifier key (in this case is SHIFT). If you want to change your modifier key (to say, ALT or CTRL), you merely change the [mod:shift] part.  I also like to use my macro as a nice "set a focus" button as if you are out of range or a mob cannot be sheeped, it will just simply focus the mob you are targeting, provided it is a harmful entity. If you want to eventually use other spells besides just the flat Polymorph spell (like Polymorph: Black Cat, Polymorph: Pig), you can simply change the last line to something like this:
/castrandom [@focus,exists,harm] Polymorph, Polymorph(Rabbit), Polymorph(Black Cat)
The only problem you might run into is if you have other spells that work on a focus – such as Counterspell (like in our last guide). What I've done is used modifers in all my macros for those spells so in the fairly rare case I need to counterspell a non-focused target, while having a focus target polymorphed, I can shift-Counterspell the non-focus target and still keep my focus target sheeped. Glyphing Polymorph lets you turn your boring old sheep into a penguin or monkey as well, or allows polymorph to remove damage-over-time spells on a mob (a must for dungeons.)
Level 16 isn't a spell but rather a passive effect called Shatter. Shatter used to be a talent as part of the Frost talent tree but instead is now something all mages get by default. What it does is double the critical strike chance of all your spells against frozen targets. Now, what freezes targets? Frost Nova, Deep Freeze (basically any spells that root with an icy graphic) do this. This means even if you aren't specifically a Frost Mage, Frost Nova is a useful utility for the root as well as the damage, especially if you are out questing by yourself. However, rooting mobs while doing a dungeon might not endear you well to tanks.
One of the key perks of being a mage comes at level 17: Teleport. This is a slide-out panel spell icon (see screenshot) that you can stick on your bars and clicking on it allows you to access every teleport spell you have learned. All mages get one "free" teleport to their home city (my pandaren mage got Orgrimmar) and to learn the rest of the cities for your faction, you will need to visit a Portal Trainer in any of the capital cities. You will learn at least one teleport spell per expansion, so keep visiting periodically to get new ones.
Finally at level 18, you learn Arcane Explosion. This is one of the only AOE spells you have this early. For Arcane mages, it has the additional benefit of generating Arcane Charges, meaning AOEing doesn't damage your DPS as much. However, much like Frost Nova, this spell requires you to be in melee range of mobs to use it effectively. This can be particularly dangerous, so use with caution. Also, jumping while using this spell increases its damage.**
Talents
Blizzard revamped their talent system heavily - instead of there being clear "talent builds" that required many talent points and had a lot of bloat, there is now a very elegant 6 talent system. You are given 3 talents per "tier" and can only choose one of them. However, using reagents, you can swap them on the fly if you want. This means that as you change activities, say like dungeons or battlegrounds, you can swap talents around that fit your playstyle best. Your first talent choice comes at level 15, so let's look at the "Casting while Moving" tier:
Presence of Mind - I chose this because I used to use it as a cooldown when I played Arcane in Firelands. I use it for my second-to-last Arcane Blast stack to build up my charges, or to cast Arcane Blast on the run.
Scorch - This is a short cast-time fire spell that can be used while moving. It is really good for activity that requires a lot of movement since you can keep Scorching as long as you want.
Ice Floes - This has similar feel to the other two talents. It allows you to cast it and then cast any two spells that have less than 4 second cast-time be cast on the move. You can use it even when you're already casting something so this means you can use it whenever you want, especially if you weren't expecting to have to move.
None of these are "tied" to a spec, like any of the other talents, and should be chosen for what works best. Experiment!
Gear
Obviously this early on, gear will basically be whatever you pick up questing, in dungeons or off mobs. Always prioritize for intellect if you can. If you get some gear that has spirit on it, don't fret. While spirit does nothing for mages, if it also has intellect on it, it is an upgrade. As more gear becomes diversified for healers versus casters, it'll be considered better if you let healers in your group roll over you on spirit items, but for now, anything that has more intellect should be something you pick. Intellect and stamina gear is fairly plentiful from quests, however. Secondary stats like haste, crit or hit is very rare at this level, even if you do dungeons. Slots you won't really see gear for  yet is shoulders (besides some white or grey ones), necklaces, head pieces, or trinkets. If you are an alt with heirlooms, this is largely meaningless to you!
At level 20, you get a class quest (Horde/Alliance) that takes you to Shadowfang Keep and gets you an awesome staff. Do this if you can!

Helpful Tips:
If you want to swap any of your talents, make sure you have Vanishing Powder (this will change at later levels.) You can buy Vanishing Powder from most reagent vendors!
At level 15, you can now use the Looking for Group tool to queue up for a specific or random dungeon that is appropriate for your level.
Past level 15, your accelerated mana and health regeneration is turned off, so you will have to start paying attention to your HP and mana pool!
**Arcane explosion used to do damage to any mobs in the radius of the spell but would "drift" if the mage moved locations rapidly, hence jumping would increase the range your Arcane Explosion would hit in. They fixed this a long time ago, but it is still fun to jump.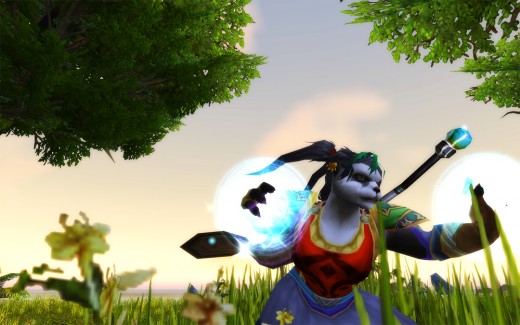 Levels 21-30
This part of the leveling experience starts to dissolve into a series of choices. Do you want to level via quests? What zone? Do you want to do dungeons straight to 60? The same goes for what kinds of things you are doing as a mage. You are learning about not just the basics, but filling out what will be the heart of your rotation at this point.
Spells
You get five spells from levels 21-30 and a lot of their usefulness to you depends on what spec you decide on playing. This is also the point where you gain enough spells to start the basics of a rotation for every spec. At level 22, you gain Ice Lance. This is a low-mana instant cast frost spell, so you can cast it on the move. This spell becomes a lot more powerful/useful for frost mages at level 24, when all mages gain another set of specialized-based spells or effects.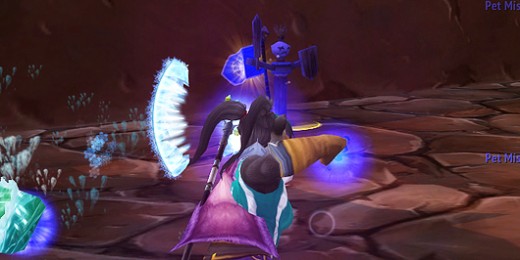 Frost mages get Fingers of Frost, which is a proc off some of your spells (Frostbolt, Frostfire Bolt, Frost Orb, Blizzard or Scorch) that lets you use Deep Freeze (which you will get later) or Ice Lance as if it were frozen. Ice Lance does extra damage because of this. Fingers of Frost can also go up to 2 charges.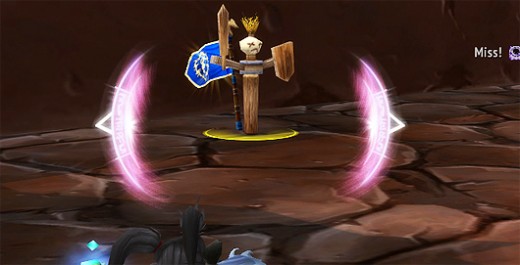 Arcane mages get Arcane Missiles. Arcane Missiles have a chance to proc off any damaging spell you cast and can go up to 2 charges. It costs no mana and does more damage depending on how many Arcane Charges you currently have. They are a channeled spell, as well.

Finally, fire mages get a spell called Inferno Blast. This spell replaces Fire Blast for mages and does a couple of different things:
It has a 100% to crit.
Because of this, you should be using it to force your Heating Up proc (one crit) to become "Pyroblast!" (two consecutive crits also known as an instant no-mana Pyroblast)
It spreads all your DoTs to two other targets in 10 yards of the one you are currently targeting - Combustion, Living Bomb, Pyroblast, and Ignite.
It explodes all other "bomb" effects - Nether Tempest and Frost Bomb (which are talents you can choose later.)
Level 26 is Ice Block. This is a very important defensive ability – Ice Block is classed as an immunity, which is why it is so powerful. It doesn't absorb damage, but it keeps you from being harmed by it. This means that you can use it for things like saving yourself from falling damage ([Going Down] is a breeze!) and keeping yourself alive during a high damage fight in case a healer dies or you are somewhere you shouldn't be. It can also be used in a pinch to keep an aggroed mob off of you (if Invisibility is on cooldown) or even to break a fear. However, if you want to do fancy things like that, you have to be able to pop it on and off quickly. Make sure to have this keybound somewhere easy to reach. What this is does is a) allow you to break your cast to pop your Ice Block,  meaning you can have a nice hair-trigger cooldown at use  and b) tapping your Ice Block macro button a second time cancels the spells so you can use it for part of its duration instead of full. It gives you a lot more control over your block and the situation at hand.
Wrapping up spells at level 28 and 29 are Cone of Cold and Remove Curse. Remove Curse is still an important cleanse spell that mages should learn how to use to save healer's mana as well as yourself. If you do not use an add-on to handle it (like Decursive) here is a quick mouseover macro that allows you to simply mouse-over and hit your hotkey:
/use [@mouseover,help][@target,help][@player]Remove Curse
What this does is: cleanse your mouseover, and if you aren't moused over anyone, will cleanse a target if you have one, and failing either of those, cleanse yourself of a curse. Getting good at this will make you indispensable in raids and PVP. At this point, most specs now have a skeleton of a rotation, as well as utility. You have your primary nuke (Arcane Blast, Fireball, Frostbolt), secondary spells (Arcane Missiles, Frostfire Bolt, Pyroblast), and instant-cast fillers (Arcane Barrage, Inferno Blast, Ice Lance). You also have a couple AOE spells (Arcane Explosion, Blizzard) and a couple of utility spells and defensive cooldowns. This is the beginning of your actual life as a DPSer. Your basic rotations should look like:
Arcane - Arcane Blast, use Arcane Missile procs for mana regen and to complete your stack of Arcane Charges, clear your charges with Arcane Barrage when full (or to AOE). Arcane Explosion if you have lots of low health mobs. Use tier 1 movement talents or Fire Blast when on the move.
Fire - Fireball is your main spell, if you get a Heating Up proc, use Inferno Blast to force a Pyroblast proc. Use Pyroblast with procs. Use movement talent (preferred is Scorch) when on the go.
Frost - Use Frostbolt as your nuke, and cast Ice Lance on Fingers of Frost procs. Use your movement talent and Ice Lance when moving.
Talents
Level 30 gives us another talent choice and this tier is the "Survival Tier."
Temporal Shield - This is a shield that you can cast at any time (even while stunned, etc) and lasts for 4 seconds. Anything damage gets healed back over 6 seconds after the shield effect fades. This is a good talent for when you know you will be taking a large amount of damage at a particular time.
Blazing Speed - After taking a melee or spell hit, you can use this spell and give yourself a huge speed boost (preferably away from your attacker) and negate any slowing effects on you as well.
Ice Barrier - I took this because at low-levels, this is a very beefy damage reduction shield. It's not very complex but I don't need complexity. It lasts for a 1 minute if damage does not break it. Very simple and effective.
Glyphs (New!)
At level 25, you gain your first of three major and minor glyph slots. The idea between each kind of glyph slot is that they focus on giving certain kinds of spells a little extra usefulness or flavor.  Major Glyphs tend to play around with a lot of secondary spells or cooldowns, giving you a little more width of choice here depending on what kind of play you want to do. Lastly, Minor Glyphs are strictly for fun/flavor or adding bonuses to quality of life spells. There's not many of them, so it makes choosing them a lot more for "fun."
What should you be picking for your first glyphs? It is difficult at level 25 since many of the abilities you would be augmenting with a glyph aren't available to you yet. For sheer usefulness, I picked Glyph of Evocation as my first glyph, so that when I got Evocation, I could use it as a healing cooldown. It is also part of Arcane's rotation later on. As a fun minor glyph, I picked Glyph of Illusion. To use a glyph, click on the item in your bags. Then press "N" to open up your talents and glyphs panel (if you have not re-bound it, otherwise use the panel on your UI), and apply the glyph from your list to the circle slots.
Note: I am aware that glyphs, even ones for basic abilities, can be very expensive on some servers. As you are leveling, it is not as big of deal as it might seem if you don't have glyphs right away. If you are short on cash, perhaps buy or gather some herbs and parchment and find a helpful guildie or person on your server to make it for you. Otherwise, you can wait until later to try and buy the glyphs you need. Don't fret if you don't have the big money in-game just quite yet. Save it for things like a mount!
Gear
Gear, especially from dungeons and their requisite quests are plentiful now. Slots you won't really see gear for  yet is most head pieces or trinkets. If you are an alt with heirlooms, this is largely meaningless to you! Snagging a cheap Mage deck off the auction house will net you Darkmoon Necklace from the quest. Amulet of the Moon isn't amazing but it is cheap to make if you are a Jewelcrafter or have a JCer friend and it has INT on it.  Reinforced Woolen Shoulders are good for low-level tailors, but if you are doing dungeons, decent shoulders don't really show up until 30 or so outside of drops. Also absent are hats, rings and definitely trinkets.
Always prioritize for intellect if you can. If you get some gear that has spirit on it, don't fret. While spirit does zippo for mages, if it also has intellect on it, it is an upgrade. As more gear becomes diversified for healers versus casters, it'll be considered better if you let healers in your group roll over you on spirit items, but for now, anything that has more intellect should be something you pick. Intellect/stamina gear is fairly plentiful from quests, however. Secondary stats like haste are rarer at this level, even if you do dungeons. However, due to Blizzard re-itemizing a lot of  lower-level gear you should be seeing more gear with hit and crit. Now that you are actually receiving gear that may have those stats on it, why don't we talk about why they are good for you.
Hit is easily the second stat behind Intellect, especially at later levels when you will be constantly fighting mobs that are higher level than you in dungeons. What hit does is determine how much you will miss hitting a mob with spells. The way this stat works, is that it scales down depending on the difference between  you and the mobs level. If you look at your character sheet, you will notice things like this: A baddie that is 3 levels higher than you or is "boss level" will require a lot more hit on your gear to cast spells at them reliably. I'm sure you've seen a spell miss before – if you run a combat text add-on or use the in-game scrolling combat text, you'll sometimes see "MISS!" next to the spell icon. That means that math that goes on behind the scenes determined that your spell didn't actually hit the mob in that encounter. Hit is not as crucial now if you're questing or doing level-appropriate dungeons/PVP, as most of those mobs will be within 3 levels of you. But any little bit of hit you get on your gear is good and will continue to become more important as you get higher in levels. Crit (rating) is a little more important or less important depending on what spec you choose but for right now, all specs consider it a good thing to have.
Crit increases your chance that you will have a critical strike with your spells. If your spell hits for 300 damage baseline, a crit is that same spell hitting for some portion of its damage over what it already hits for. So you might crit for 700 on an enemy. Intellect already provides a boost to your crit, but straight critical rating on your gear also does as well. Remember that all these things are explained if you mouseover a stat on  your character sheet, take a look there sometime. Just remember to look under "General" "Attributes" or "Spell" like in the graphic, Ranged/Melee is for other classes that do Ranged attacks (with their weapons) or melee attacks. "Resistances" isn't really important right now.
Helpful Tips:
At level 30, you can pay for the ability to get a second specialization. This allows you to flip between two different specializations on your talents page. Doing this cannot be done in combat! Each spec gets its own set of talents, glyphs and spells.
Glyphs only need to be learned once. You can swap talents as many times as needed. You do need Vanishing Powder to swap them, however.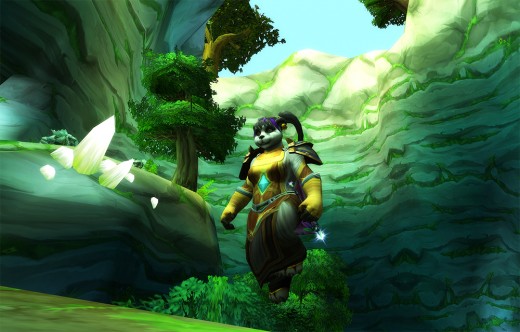 Levels 31-40
Spells
Welcome to the 30-40 bracket, where all the mage spells you start to get tend to be less about your primary use nukes and cooldowns, but rather what I like to call "quality of life" spells. Things that make your time spent as a mage relaxing, enjoyable and frankly, kick ass over other classes. You got a taste of this when you got your Teleport spells last bracket, but now that you've come this far, prepare for the magical equivalent of riding around in a Bentley, waving over your shoulder at the warlocks and rogues crying on the side of the road. (Okay, maybe not like that, but come on, we're pretty awesome.)
At 32 you get Slow Fall, which may seem like an unusual and frankly unnecessary spell, but as any veteran mage can tell you, will literally save your life. If you are a mage that spends any amount of time exploring the world or going into battlegrounds, the ability to descend gracefully and not hit the ground with a caster-shaped crater (preferably while popping off several instant cast spells) is beyond useful. Slow Fall does just that – it slows your falling speed. You float off at a diagonal towards the ground until you land on something solid. This spell can be cast on other party members or yourself, as well as used while mounted. Just make sure you are targeting the right person.
Molten Armor (level 34)  is the first time in leveling that you get one of your class-specific armors.  Much like a warlock's armor or a paladin's aura, an armor defines certain benefits and defenses. Molten Armor grants you extra critical strike chance and reduces your chance to be hit. Fire mages will value this more than arcane mages later on in the game, but for right now it is your only armor and you should wear it!
At level 36 you get your third installment of spec-specific spells. Arcane gets Slow. This is one of the spec's few CC-like abilities. It slows one target's movement by 50% (25% if it is against another player) and their casting speed by 25%. Now, if you use Glyph of Slow, all of your Arcane Blasts apply the Slow effect and you don't need to cast it separately. But it might still be useful for having on your bars if you do any soloing or PVP.
Fire gets Critical Mass, which is a passive effect that multiplies the critical strike chance of your main Fire-specific spells. It's one of the indications that Fire prefers crit overall as a stat. Your fire spells will start to rely pretty heavily on crit at the endgame to do respectable damage.
Icy Veins is what Frost gets, which is one of your major cooldowns. It is a 20% increase in spell haste and reduces pushback to your spells by 100%. This is like a little Time Warp all for yourself and should be used often, particularly during big fights.
Now for the moment I'm sure you've been waiting for – the ability to conjure food. That's right, at level 38, you gain Conjure Refreshment. This is your ticket to reducing incoming costs for your budget and never needing to grocery shop ever again. Granted, conjured food is slightly behind the best available food for your level but if you forget to buy things like I do, it will work in a pinch. As well as being good for returning mana and health, this food turns into a new kind of sweet treat as you level up. (Right now, your conjured food is cookies! Yum!) Other players will love your food too – so much in fact that they will ask you for it four pulls into a dungeon. *facepalm*
Gear
Matching colors and items! How novel! That is what you can expect during this portion of leveling – many quests in zones help itemize you sensibly as well and look snappy.  You'll starting seeing more choices in head-gear as well as all your slots. Darkcleric's Veil/Veil of Aerie Peak is a great blue quest reward from a quest in the Hinterlands (and it looks like a face mask, so cool.) Whitemane's Embroidered Chapeau is also a classy choice for a head slot!
The only problems I really ran into with gear in this bracket was between some overlapping quest items or slots covered by dungeon drops having wildly different stat allocations. One example of this was two questions offering me two belt choices – one had +11 INT, one had +8 STA, +4 INT, and gave me a bunch of hit. Which seems like the better choice? Lots of intellect is great, but so is hit? This sort of stuff can get really confusing. Typically, even though HIT is my best stat for not missing on mobs, more INT should win out. It just is a flat DPS boost no matter how you slice it. A good way of determining which piece of gear is better when it has identical kinds of stats on it is which has more if you added all the "numbers" up. Hit is better than crit, haste is better than crit in a lot of ways.
Still, always prioritize for intellect if you can. If you get some gear that has spirit on it, don't fret. While spirit does zippo for mages, if it also has intellect on it, it is an upgrade. As more gear becomes diversified for healers versus casters, it'll be considered better if you let healers in your group roll over you on spirit items, but for now, anything that has more intellect should be something you pick. Intellect/stamina gear is fairly plentiful from quests, however. Secondary stats like haste are starting to become more plentiful, especially if you do dungeons. Now that you might be seeing this, let's explain what haste actually does.
Haste is what speeds up your casting. It sounds simple but it can mean a few things – casting faster means technically more DPS. It also means you run out of mana faster, as you have less time to regen while casting. It also can speed up ticks of some DoTs and reduce your global cooldown by a small margin. Haste also only goes so far, especially when you get to the level where Heroism/Time Warp/Bloodlust is concerned. You can only speed up your casts down to 1 second. Under one second and you will be effectively locked out by the global cooldown between all your spells. That is what most casters that are working around a lot of the time when they talk about racials, cooldowns in regards to a "haste cap." Early haste gains in leveling tend to be talented or profession cooldowns like Lifeblood.
Helpful Tips:
Making food for healers in low-level dungeons or in battlegrounds now is considered polite and generous
Slow Fall, Blinking as well as Ice Block can save your butt if you jump or fall off something high.
At level 40, you can buy your 100% speed ground mount training.