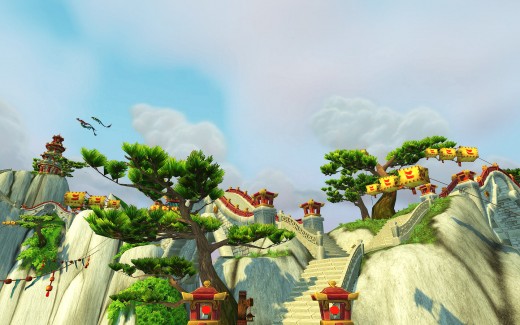 I've been enjoying the beta greatly. I've been taking it slowly, exploring a little bit on my mage and testing out glyphs and talents on random mobs I pass-by while taking screenshots. A lot of people have been doing the high-level quests but I tend to burn out fast when I do that so I've been plonking around with testing abilities and rotations primarily. I also rolled a monk (Shojuu) and have been leveling her in the early morning just to avoid the deluge of other people who are in the beta right now.
The art direction and mechanical development of this expansion is in such stark contrast to how half-formed Cataclysm felt; what the Blizzard development teams learned from Cataclysm's challenges definitely reflects here. Abilities have a lot of polish and additional functionality, and the world feels so much more cohesive and alive. I could get lost in Pandaria and I've only been around the Jade Forest at this time.
One thing has stood out to me so far, while testing new Pandaren monks. Early on in the leveling experience, you meet Ji of the Huojin. He's part of the Firepaw clan that's in the first village you come to after leaving the initial starting area. As a female Pandaren I ran up to him to turn in my quest, only to be greeted by slightly creepy conversation text.
I went back and did the quest as a male just to see how it changed. It was similar text in that it was constructed similarly, but it did not have nearly the level of inappropriateness.
What he says to women:
Hello, friend!
You're some kind of gorgeous, aren't you? I bet you can't keep the men off of you!
Join me! You and I are going to be good friends!
What he says to men:
Hello, friend!
You've got a strong look to you! I bet you're all the rage with the ladies!
Join me! You and I are going to be good friends!
It's a subtle difference but it pulled me out of playing for a moment. I am aware that Ji is written to perhaps be slightly too friendly. I know people in real life who are like that. However, how it reads to me, as a woman in real life - it came off as exceedingly creepy, especially with the absence of a male-centered experience up until that point. The focus is on how beautiful she is, rather than strong. Given how Pandaren society seems to value strength and poise as gender-neutral traits, why make this guy espouse an exception? Add to the fact that this is stuff I hear from weird random dudes I know all the time, with the added "You and I are going to be good friends"…
…well it comes off as weird. I made a forum thread trying to break this down and it will probably get crapped on, but oh well. Part of beta testing is picking out bugs and giving suggestions and I actively want Pandaria to feel as cool as I know it could be, even if you are a lady Pandaren.  Recognition of gender is important, but not in a way that marginalizes. Blizzard hasn't done a knock-up job of this in some places, but overall when I've leveled characters, I've not felt like the world I am presented with as a lady toon is wildly different from a male toon. It shouldn't be that way in a fantasy game anyways! As I explained yesterday when bringing this topic up, "It's one thing to encounter sexism from other players in roleplay who are dragging that stuff with them, but a game company can make a fantasy world in whatever image they choose. It should let women and men stand on equal footing, especially in a video game where mechanically it'd be a disservice otherwise."
Obviously there's a lot of unchallenged sexism in the developers and creatives at Blizzard themselves, but I felt that if I'm given access to the beta in order to make it better, why can't better mean "less othering"?