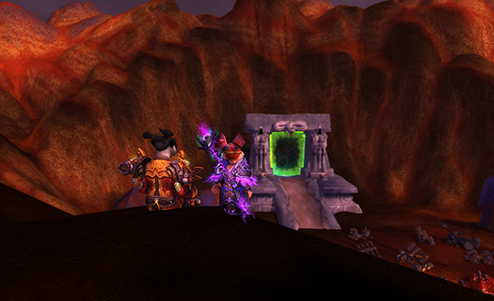 Written by Apple Cider Mage and Tzufit
If you had asked us last week what sorts of things Blizzard could do that might make us feel like World of Warcraft isn't a game for us, we might have made some comment about treatment of female characters or perhaps the ongoing sexism that women face from other players. We probably wouldn't have said, "They could make a show about middle-aged men designing motorcycles." So when Blizzard dropped the announcement that they were partnering with American Choppers for a strange web-series that would document a competition to design a sick motorcycle as an in-game mount (what, another one?), we were glad that we weren't the only ones going, "huh?"
Your male power fantasy turns me off in ways I didn't even know were possible to be turned off.

— Druid of the EEK! (@Druidis4fite) April 11, 2014
The more we thought about it, this confused us because it was yet another tone-deaf offering that pushed us farther and farther away from World of Warcraft. Jokes about mid-life crises aside, it's hard to be excited about the upcoming Warlords of Draenor expansion and WoW in general when you feel like you don't belong there.
Because WoW is an MMORPG, feeling as if you belong in the world is exceptionally important, arguably more so than in any other genre of video game. In years past, we have drawn our excitement for new expansions by thinking about the things that our characters will do and see, the places they will explore, and the new challenges that we, as players, will experience. In recent weeks, people who used to see themselves as curious about the world we are about to inhabit now have a hard time picturing themselves there. We find ourselves traveling to an alien world, and yet the alienation we feel comes not from Draenor but instead from the people who have created it.
While we cannot know precisely who has their hands in every pie at Blizzard, it seems like the public faces and taste-makers of World of Warcraft often gravitate around fairly similar themes that they consider "cool." Draenor, more so than any other expansion, feels saturated in these ideas, despite protests to the contrary. The particular rally point in this case has indubitably been Y'rel, a strong Alliance Joan of Arc-type. Yet, everything we've seen thus far, from new extra beefy mob models to some alpha dialogue is oriented around a hyper-masculine world that is brutal, savage (as we have been told ad nauseum) and inexplicably full of rock star pyrotechnics. When we saw the art piece of all of the warlords lined up like a gruesome metal band, there was an emotional distance between Chris Metzen eagerly throwing up the horns and us looking on in confusion. We've seen fun and goofy inclusion of these ideas before, but the tone now feels very serious; it's a weaponized barrage of these concepts to the exclusion of everything else.
This nerdy (but still male) idea of "coolness" isn't a unique problem to Blizzard. Big creator names in nerd culture are still predominantly male, which has been true since long before "nerd" and "geek" were a persistent cultural identity. You have Tolkien, Lucas, Martin, Whedon and, for our purposes, Metzen. Nerd-dom has been retconned into a male space, a refuge for the those who did not fit the traditional image of masculinity, but who enjoyed Dungeons and Dragons and got thrown into lockers because of it. The duality of this background is that for all of the underdog position that nerd men have had most of their lives, many of them still enjoy the benefits of a patriarchal culture that nurtures and comforts their tastes and desires, often to the tune of millions of dollars. For a group of outcasts, loners and misfits, they have, especially in the 2000s, enjoyed a renaissance period. When you combine that with a fairly critical ignorance (or even outright hostility) to other people who are not considered the marketable norm, your fantasy world, much less are suddenly devoid of people outside of that nerd paradigm.
The problem with nerd culture and the belief that only men are considered creators is that it reinforces that the only stories worth caring about are for men, by men, and in a way that is cool to other men. It's a rigid set of interests that tends to not consider much else outside of it. The worlds themselves sometimes involve a realism and grittiness that is at best, voyeuristic - it's easy to insert things into a fantasy world to make it more real when it's not a reality you have to confront on a regular basis. All of this is nerd men and their creations revolving around power and cachet - the stoic, grizzly hero flanked by compatriots and female love interests. In the case of Blizzard, a lot of it looks like muscular brutes, heroes of light and rock guitars.
What seems apparent to us is that some of Blizzard's content creators are still finding the same things cool at 40 that they did at 15, and though their customer base has matured, their interests are showing their age. No one faults content creators for having inspirations, but when you achieve a level of success that allows you to create content for literally millions of people all over the world, isn't it reasonable to ask that your inspirations grow to reflect the diversity of your audience? It seems equally reasonable to expect that this is not only something Blizzard should consider but rather something they for which should actively strive.
I'll wait for the final @warcraft product. But the WoD marketing so far has turned me off from prepurchasing the expac. That's backwards.

— Cynwise (@wowcynwise) April 13, 2014
How we've seen people typify this cultural problem within Blizzard and throughout Warlords of Draenor is one of marketing, and we don't believe that that's entirely the case. Marketing is a symptom of the problem. The primary issue is a concept and an atmosphere that people are struggling to see themselves in. Is it so terrible to ask for inclusion? Is it so terrible to be afforded even a fraction of the same consideration that a particular segment of nerds have enjoyed for years in WoW? Our standards are not unreasonable; in fact, we might go so far as to call them incredibly low. While active inclusion of diverse women in Warcraft's story may be the ideal, in the past we have at least been able to say that WoW does not actively exclude us. Recently, that seems to be less and less true. It feels like WoW has been moving backwards (now quite literally) in some places with how women are characterized or talked about, those failures buoyed by the few small successes we've enjoyed since then. For every five minutes Jaina is allowed to be a competent leader, we have many more moments of women being killed, hurt, married off or otherwise left behind.
There's such a spectrum of problems that surround both the women in the story and the audience that it's hard to list them all. The problem now is how to deal with these revelations about Blizzard and the game we've been enjoying for so many years. Loud, vociferous criticism only works when we are able to make headway, and the road to Warlords has so far been littered with increasingly insurmountable obstacles.
Much is still unknown about the new expansion at this point. Alpha and beta often provide key contextual clues to the overall direction an expansion is headed and we acknowledge that there have been exceptionally long dry spells in between updates since Blizzcon. It's easy to feel like small, select issues make up a larger percentage of future content than may prove to be the case. Historically, alpha and beta have been periods when we've seen that critical analysis can and does create change and improvement in Warcraft. Yet, for the moment, we don't know how to align ourselves with Blizzard's visionaries because their ideas don't seem to include us.