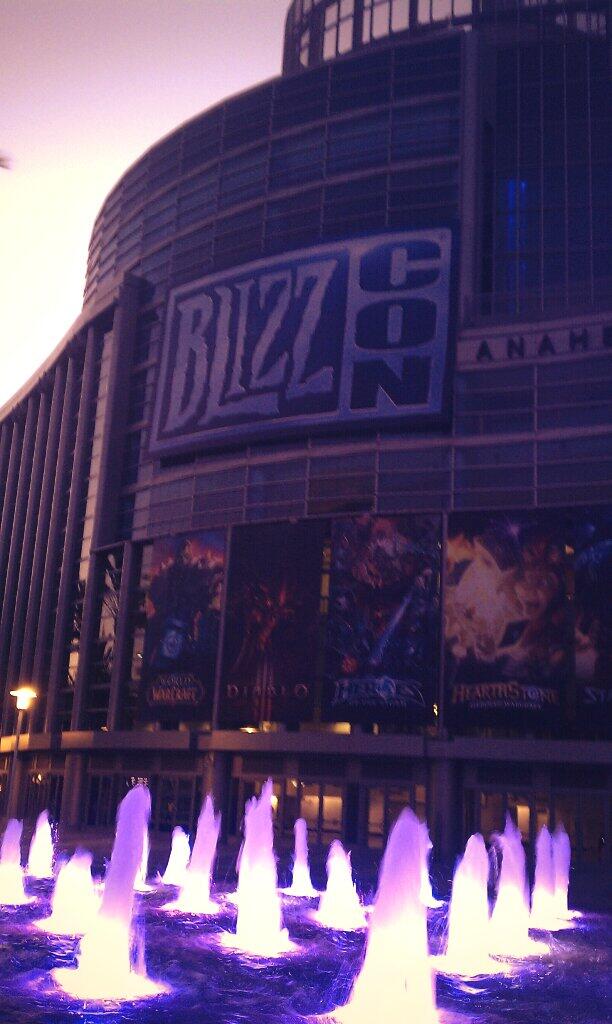 Blizzcon 2013 was not for the faint of heart. Between the travel woes, heat and the general fatigue that kept hitting me like a child with a wiffle bat, there was a lot of things to see and to do and it felt like I needed a time turner or perhaps de-aging myself 10 years to properly enjoy it all. Not to mention a lot more money. It was all worth it, though at times I wished I could have been curled up on my couch with the Virtual Ticket instead of braving the crowds. A lot of my best moments happened not in panels but rather behind the scenes hanging out with friends and meeting Blizzard people. However, this is going to be a rundown of the content we all got to see. I'll save the granular discussions on particular issues for later.
Note: This is all based on my personal experiences and in the attempt to get this out today, I haven't watched the panels I missed via the Virtual Ticket yet, so there's gaps in my memory and knowledge. Be a little patient with possible corrections.
All That Real Life Stuff
Most of what gets discussed after the con is long over is not necessarily the panels but all the great memories you have while being at the con and getting to hang out with friends. This year's Blizzcon theme definitely centered around the idea of friends and community and I felt like the feeling on the floor was no exception. Some of the greatest moments I had at Blizzcon was getting to just spend time with people I had only seen on Twitter or heard on podcasts. I admit that some of my real mopey-ness was feeling more like a public persona than being around people who know the "real" me like my guild-mates, most of whom weren't in attendance this year. I did see a few though, which made me feel a lot better.
Getting to meet some of my heroes (and new faves like CM Nevalistis!) too though was also a big highlight - I got to meet Dave Kosak (head of Narrative), Helen Cheng (Quest designer and story bad-ass), and Craig Amai (head of Quest) as well as Bashiok and Nethaera, who was a personal inspiration. I had great conversations with all of them, some of whom I'll go into more detail in other posts! I got to talk with Craig about Ji Firepaw and the need for representation in WoW, Helen and I got to finally meet and talk about the new expansion, and I got to briefly talk to Kosak about story stuff. Nethaera in particular is someone I got to speak with at length and as someone who particularly enjoys community engagement and public relations, seeing such a talented, storied woman publicly fronting Blizzard makes me really happy.
Warlords of Draenor
Let's be real, there's a lot of stuff about this expansion that I'm cautiously nervous about but I can unpack that later. The new expansion, despite all the weird timey-wimey-ness still seems really enjoyable to me. The quality of life changes (HIT, GONE! EXPERTISE, GONE!) are what really caught my attention overall. I love the idea of a garrison as someone who is an avid Animal Crossing: New Leaf player. Buy upgrades for my own personal town? Sure! Have helpers and followers? Absolutely.
The fact that the raid sizes and flexibility changes are now across the board except for Mythic is interesting; it might give me a new lease on raiding again, at least enough to do Heroic (basically the new Normal difficulty) even with a casual social guild. Being able to raid cross-realm from the start of the expansion on new content is basically what I had been hoping for since the beginning as much of my love of raiding comes from doing it with friends but often we didn't have enough people to field a full 10P raid on new content. Flex mitigated that somewhat but not being able to do it with my core raid team was sad a lot of days. This might give me the needed flexibility (ha!) to get back into raiding a tiny bit. We shall see.
The idea of going back in time to a revamped Draenor is pretty interesting to me, even if it is just that my fangirl dreams have always included seeing a restored Temple of Karabor. From a roleplay standpoint, I know that I will be dusting off my deadspeaker draenei priest for sure.
Also, hello? Did anyone see those new model previews? Is anyone overjoyed at that sassy gnome lady face? Yesssss.
The fact that they also hinted at sticking in new content for explorers like myself as well as a lot of stuff for those of us who are on the more casual end of things (Potential future transmog changes? What!?) means that I feel less alienated by this new expansion even moreso than when I hit Mists of Pandaria, which was pretty alt-unfriendly and killed a lot of my drive to do stuff at 90.
I unfortunately did not get to play the demos as often or as long as I would have liked. When I sat down the one time to play Warlords, it was mostly to poke around Shadowmoon Valley (which is gorgeous by the way) and to explore. I didn't tackle any of the quest content, which I really should have. I got most of my information about that from my boyfriend Alex and Sally Pine from WoW Insider.
Heroes of the Storm
Blizzard jumping into the MOBA/DoTA-like genre is both ironic and also not surprising. What is surprising is that I'm hearing that it has more elements of a character brawler and some PVE-ish elements to make it slightly different from your other fare in this category. I'm not a MOBA player at heart and I've never really done well with PVP-based games, nor grasping the complexities of item building and such. If Blizzard can make something similar to League of Legends but with an ease of entry for those of us who have been too scared of the community or too confused by the mechanics, then I suspect they will have a runaway hit on their hands.
The cinematic for the game also featuring two women was also a big plus for me. We will just have to see if there's tons of female champs and if they go to the route that Riot did and made them pretty skimpily dressed. I'm hoping this isn't the case.
Unlike the case with Diablo 3, where I got to try it out at last Blizzcon, the line for this was so extensive both days that I didn't have the heart (or the feet) to stand in line to poke at it.
Diablo III and Hearthstone
I must admit I don't have many things to say about either game. I know there's been sweeping changes with D3 and I've been in the Hearthstone beta for a while now. What might push me back into doing D3 is the the demolition of the Auction House as well as transmog changes. My biggest gripe with D3 wasn't combat or gear but rather that I was doing the same content over and over multiple times. As someone who is not used to that type of game, it was very boring to me despite liking the story, aesthetics and gameplay. So I'll probably pick D3 back up when the new expansion material gets added.
As for Hearthstone? I'm really glad to see a potential e-sport that mechanically requires no trash-talking. Card games have always been alien to me but the idea of one that I can play on tablets or phones while I'm doing nothing else and don't have to worry about gross people is really cool to me. I'll get good at this game eventually. Eventually.
—
Blizzcon was really great for a lot of reasons and even though the negatives were there, I felt that it all balanced out. The only real drawbacks was that it exhausted my poor body very thoroughly and I'm going to take some time to recuperate. I know this rundown wasn't nearly as juicy or potentially inflammatory as it could have been but I'm looking to do some piecemeal analysis once I get back on my feet. Expect stuff in the next couple of hours or days!
As always, it was a lot of fun meeting fans, listeners of my podcast as well as friends. You're all wonderful. Same goes for the Blizzard employees who had to spend long hours working and dealing with fans.