The Mists of Pandaria cinematic finally came out this morning, a few short weeks before the release of the pre-MOP 5.0 content patch and a month shy of the expansion dropping. I watched the whole thing a couple of times to get the full effect. My initial feelings is that it is lighthearted but with a touch of seriousness and conveys a tiny snippet of the overall tone of the expansion well. It illustrates the inherent conflict in the Alliance vs. the Horde and sets the Pandaren nation as a contrast to that. It sets up the initial events leading up to the Azeroth primary races finding Pandaria after a naval battle and revealing the rich landscape that they didn't know about.
Past that though?
MANLY MEN DOIN' THANGS! HITTING STUFF! BREAKING SHIT! SPITTIN' ON GROUND! MRARRRRRR! MEN MEN MEN!
I can't get an accurate confirmation as to whether the pandaren man in the trailer is Chen Stormstout or not but the fact of the matter is that this trailer is literally and utterly masculine. It features male power fantasies and counterpoints them with a more wise, agile man. It's all men! All men, all the time. Just the way we like it, eh?
Barf!
I could easily see this being an amusing bit of symbolism for masculine conflict resolution and colonialism. The problem is that most of the viewers are not going to reflect on some of the subtleties here. Let's take a magical journey through this trailer, shall we? (If it helps, some of this could be interpreted as the same tone as this. Thanks, @iateyourfood!)
Note: Lots of Images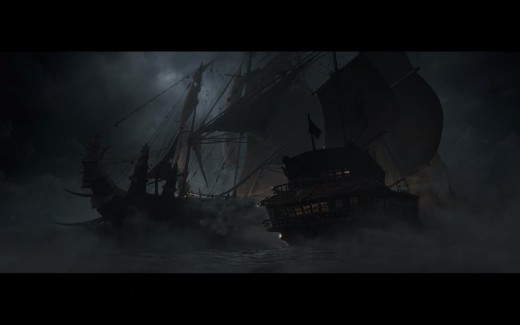 I admit I really liked the voice-over asking the really hard questions but the nature analogy seemed very cliché. I will take this moment to say that the animation for the cinematic is a far cry better than the original cinematic. Very lifelike in some places. The cinematic also sets up, as I said before, the initial story of how people find Pandaria: a huge naval battle crash lands Horde and Alliance forces and strands them on this mysterious land shrouded in… well I'm sure you can guess.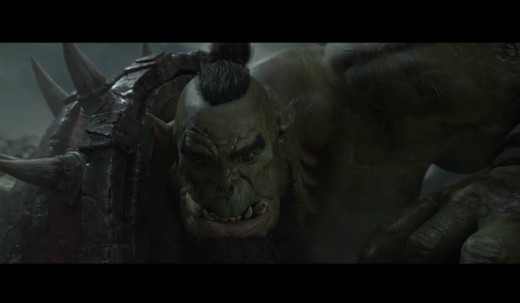 Our first manly man, the delegate from the Horde! Let's call him Thunk Rockjaw. Thunk, despite having eaten several full villages of Night Elves, does still manage to have a beautiful, expressive face. The detail on the armor, hair and his skin is just unbelievable. You can also see his WICKED SICK TATTS, BRO. Is this the same orc from the other cinematics? Who knows. I'm sure someone will figure it out.
And here comes the Alliance. Admiral Chestyhunk. Captain Hunkachunk. Slam Beefchin. Sizzle Beefslab. Reportin' for duty with a very sharp stick.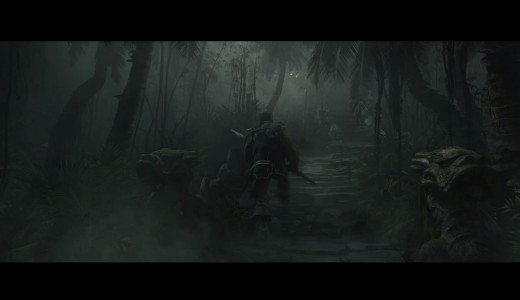 He's going exploring on this jungle island full of ruins that look radically different. This is NEW! STRANGE.
Secondary note: I hate to see you leave, Captain Beefypecs, but I love to watch you go.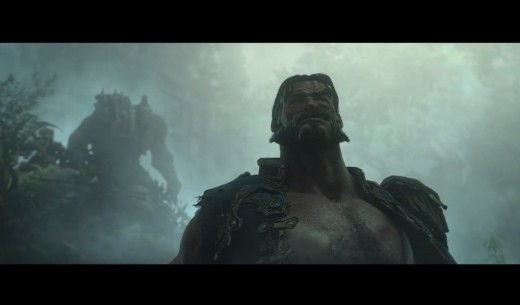 Thunk Rockbuff spies the enemy. Sizzlechin Rockgroin uses up most of the animation budget on his glistening, dewy, chest hair. I really wanted to call this pic the PINNACLE_OF_MASCULINITY.jpg. My computer almost exploded from this much testosterone oozing out of my video card but I cooled it down with some compressed air and playing Cher on my iTunes.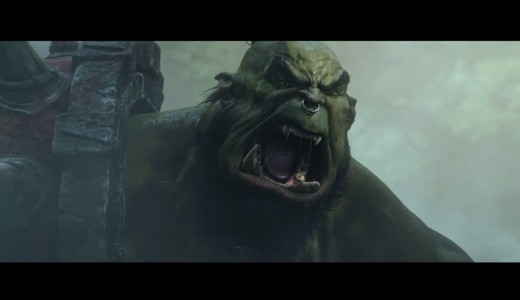 RARRRRRRRRRRRRRRRRRRRRRRRRRRRRRRRRRRRRRRRRRRRRRRRRRRRRRRRRRR
DON'T MAKE A MESS IN OTHER PEOPLE'S HOUSES, THUNK, PUT THAT DOWN RIGHT NOW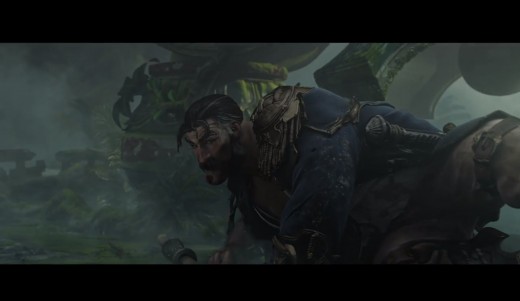 Smolder Beefgrin can ring my beelll, ring my belllllllllll…
I like the salt/mud detail.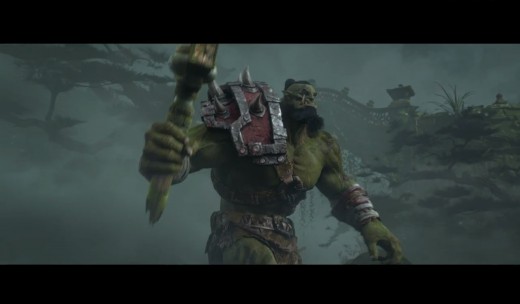 I'MMA FIGHT YOU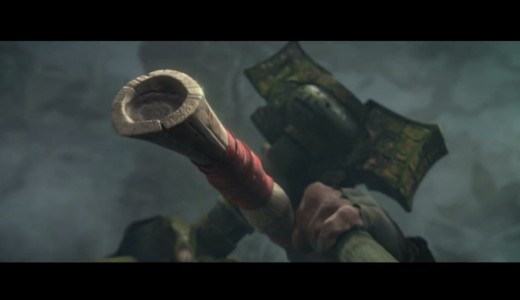 A CHALLENGER APPEARS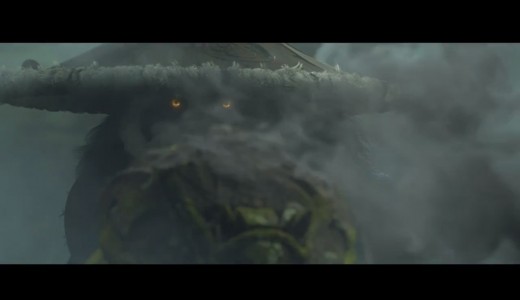 Whoa, it might not be human. Look at those eyes. And the noises! I swear though, if Pandaren have roarly-morwrorrr noises like the Worgen sniff, I am going to turn off all my in-game sounds permanently.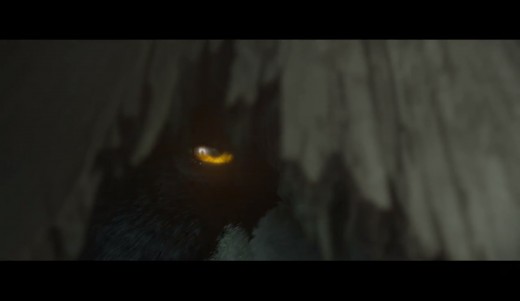 The fur detail is really intense. I'm pretty impressed.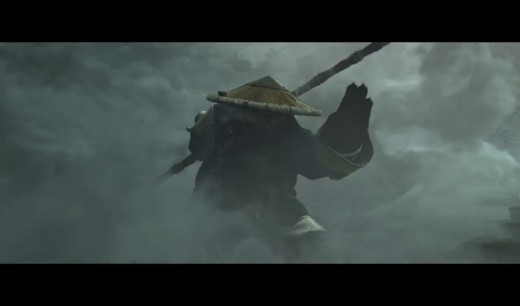 The animations for the Pandaren in the trailer was one of the more impressive things given the weight/height of him. Interestingly enough, Pandaren are as tall/taller than Humans or Orcs, but he looks rather short in the trailer. I liked the fighting stance though.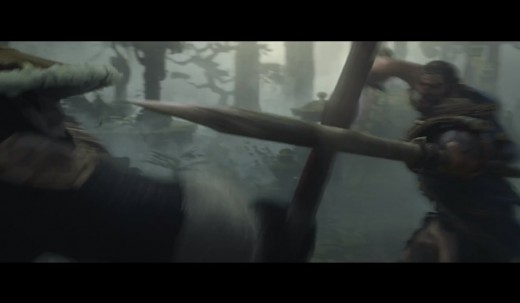 Captain Sizzlebritches cannot best the Pandaren. For shame.
I couldn't get a good shot of it but you can see lots of really intriguing clothing details, including the bottles hanging off the belt.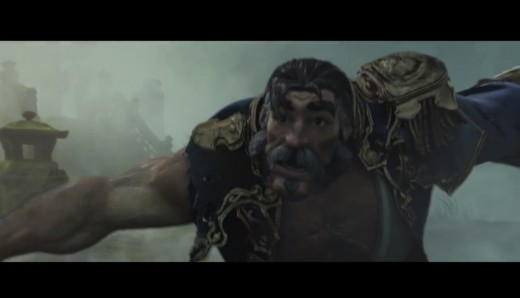 YOU WERE BESTED BY A CAREBEAR, ADMIRAL CHESTHUNK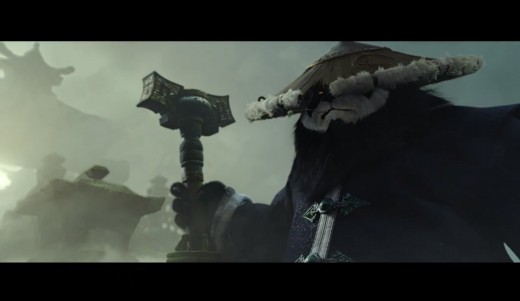 NOT IN MY HOUSE *expertly arranges post back into place*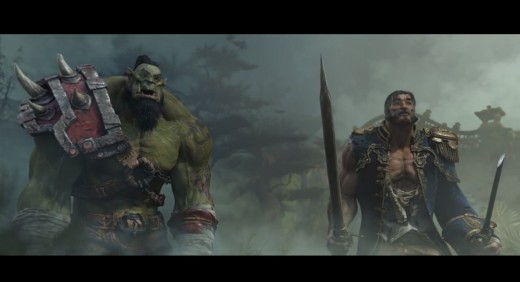 Anytime I want to go into discussing toxic masculinity, I think I'll just use this as a sort of LOLCATS-style reference. Because really, dual-fisting weapons, the vacant expressions, the INTENSE 'ROID muscles, it is pretty much all jammed into this picture. This is like some sort of Liefield-cum-Conan manliness wet dream.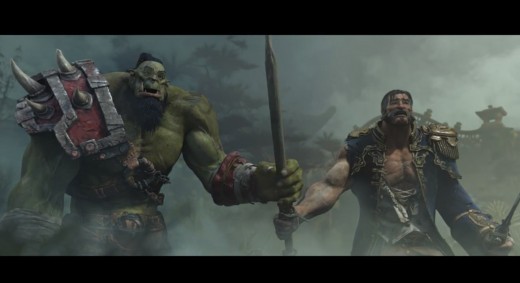 WELP, WE AT LEAST KNOW HOW EACHOTHER FIGHTS, SO LET'S STOP FIGHTING AND COOPERATE SO WE CAN FIGHT THIS DUDE! FIGHTING! YEAH
I LIKE BEEF JERKY!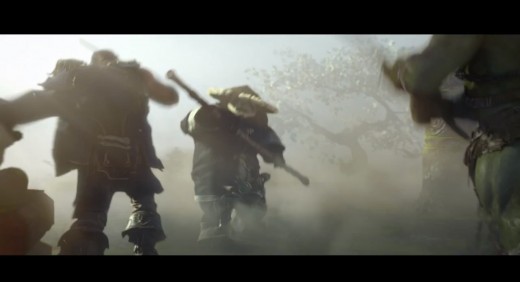 *TUSSLE*
The Pandaren moved with a lot more agility and weightlessness than his size would suggest. I couldn't tell if that was intentional or a flaw in animating mass/gravity.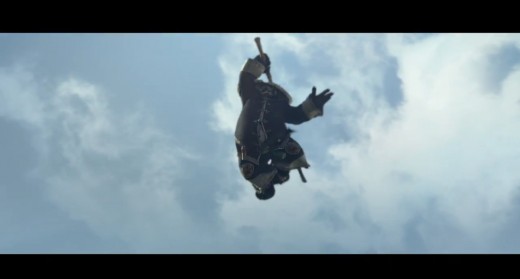 Uh-oh. Shit's about to get REAL.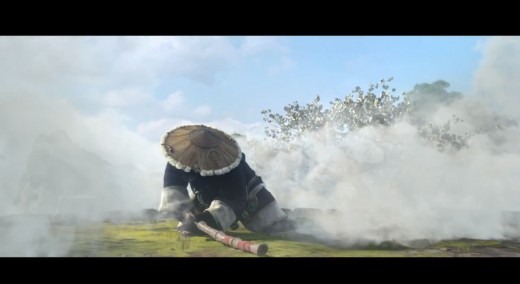 OH MY GOD, I GET WHY  IT IS CALLED MISTS OF PANDARIA NOW
WHOAAAAAAAAAAAAAAAAAAAAAAAAA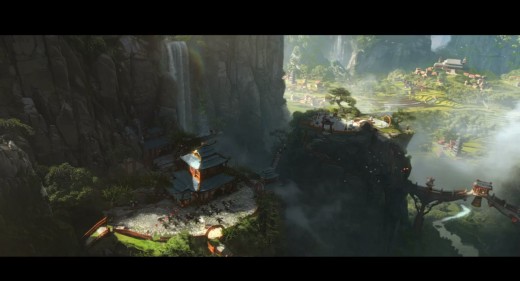 Beautiful scenery, with requisite monks training in the background.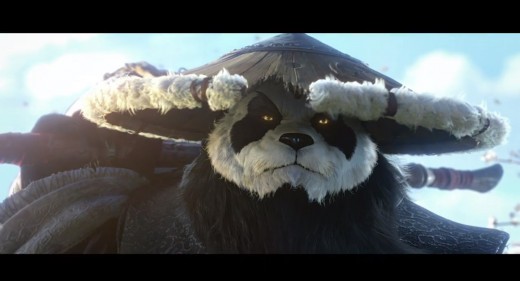 Voiceover: What IS worth fighting for?
That's a very good question, actually.
I feel that the trailer had a very deliberate message/narrative to juxtapose the beliefs of the Pandaren versus the beliefs of the Horde/Alliance. It's pretty evident that this is going to be the thread that weaves itself through all of the stories of the expansion.
My biggest beef (heh) about the trailer was that despite it playing some notes about the conflict at large, it didn't really give us a new or unique look that was different from any of the other trailers. Notice how there are no women involved. I know that women would have destroyed the giant EAST MEETS WEST, rage and fighting trope going on, since you know, women are not into being aggressive fighters out to push their empire outwards but would it have killed Blizzard to throw us a bone here? Also, no gnomes. There have NEVER been any gnomes in any trailers at all, ever.
Cinematics: An Interesting Retrospective
The lack of women in this trailer in particular got me thinking, however. How many women HAVE there been in all of the Blizzard cinematics since the game first came out? I knew that I had a pretty decent memory but I went back and watched all of them just to refresh myself. And surprisingly? The trailers have gotten more and MORE male-dominated since Vanilla came out.
World of Warcraft (2004)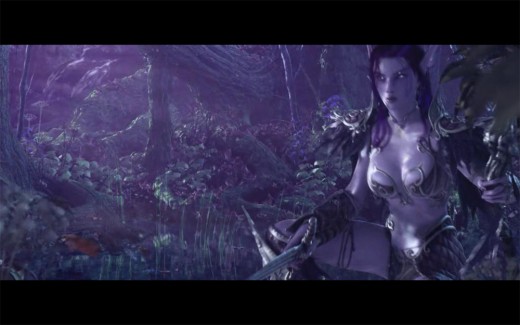 One night elf druid versus the five other male characters (dwarf hunter, orc warrior, human mage, tauren shaman, and undead warlock) present in the cinematic. The voice-over is also done by a woman.
The Burning Crusade (2007)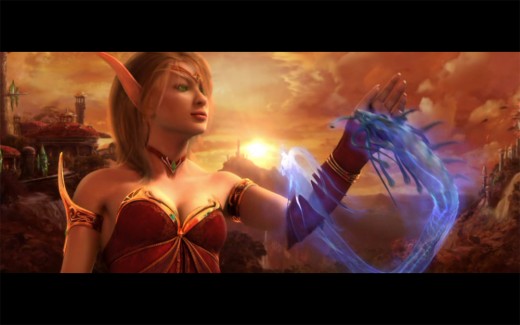 One blood elf mage versus the SIX other male characters plus voice-over and additional footage of the masculine "big bad" Illidan.
Wrath of the Lich King (2008)
No woman in the trailer unless you count Sindragosa*. Trailer predominantly features masculine villain Lich King with voice-over done by King Terenas (also male.)
Cataclysm (2010)
No women in the trailer at all. Trailer predominantly features masculine villain Deathwing with voice-over done by …Deathwing.
Total: 3* women out of 13 men in the first four cinematics, 3 out of 16 if you count MoP.
—-
I can't really infer much about this other than the fact that despite there being slightly more women involved in the actual storylines in-game, the trailers are woefully under-representing everyone, but mostly women and have been going backwards in this fashion, this newest cinematic being no exception. This also could include the box art and promotional items as well but that's a longer post for another time. My real interest lies in seeing more women involved as major players in the stories present to the players inside of the game, but some recognition in the big showy cinematics or even the machinamatics would be a real treat.
Stop centering narratives around masculine, Western pursuits for conflict, Blizzard
Until then, enjoy the Thunk and Captain Burlychest v.2.