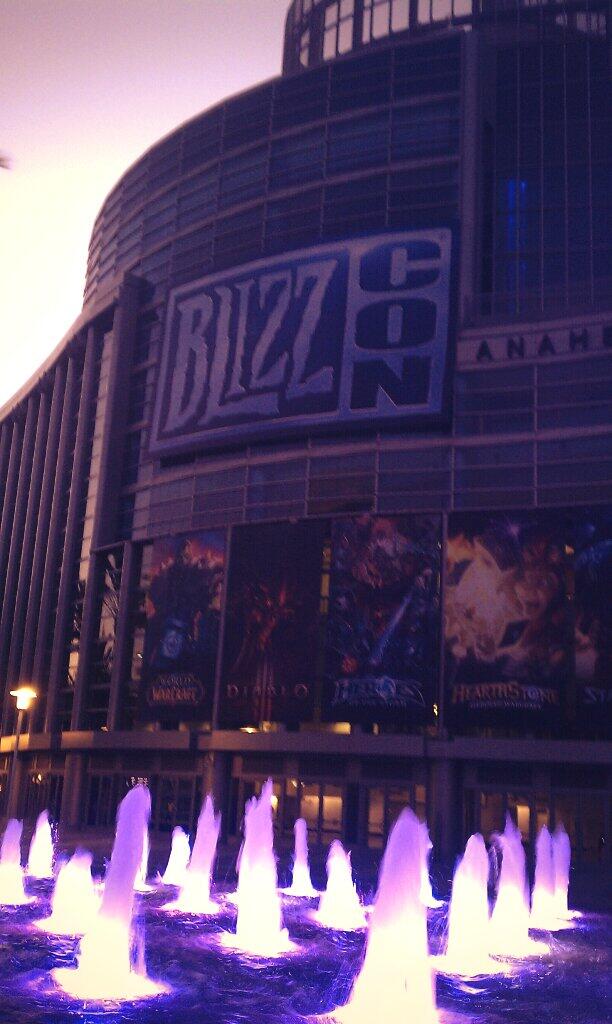 My promise to fully document my trip to Blizzcon has fallen slightly short just do to the level of fatigue that accrues when you fling yourself into the meat grinder that is modern air travel these days, on top of the whole Daylight Savings Time, time-zone wibbly wobbly timey wimey nonsense. But I will endeavor to record as much of my progress thus far, despite being on a laptop in an awkward position due to how our hotel room has a very low desk chair and a very high table.
If you would like to read my boyfriend's version of events, you can do so over here on Wow Insider.
Day 1 
We began our auspicious journey by staying up all night so we could leave to go to the airport at Dark O'Clock. While I feel that air travel is largely still the most expedient way to go, especially long distances, the convenience is hampered somewhat by how much airlines have mangled service due to flagging profit margins. In the past 10 years or so, it has turned from something exciting where you step on a plane and land in a new magical place into a hellish torture that maybe only sadists would enjoy inflicting on people. Our itinerary to get us to Colorado, where we'd meet Anne Stickney, our third, took us via Houston. Milwaukee to Houston is not a convenient route by any cartographers stretch of the imagination and going several thousand miles south out of our way to swing back up on another flight is bizarre. There's also the problems with the fact that airplanes are now just expanded sardine cans. Barely any amenities are given out despite the ticket prices and you spend most of your time cramped, hungry and irritable. I suffered the least given that I am half the size of my poor boyfriend, who was folded literally in half to try and squeeze into the airplane and then his seat.
Despite us almost missing our connection, we did make it to Colorado and it was all as promised. We met up with Anne and quickly got onto the road since we had to be at least to our Utah midway-stop by nightfall. Driving through Colorado and Utah was everything I dreamed of and possibly a bit more. As someone who grew up on the East Coast and largely around very small mountains covered in trees, the alien landscape that we were presented with on our drive was breathtaking. Mountains that went beyond the clouds, striations of every hue imaginable and alien landscapes that I know I had seen in quite a few sci-fi movies were around every twisty-turny  mountain pass or long desolate straightaway.
Driving by car, preferably when you're a passenger, is easily the best way to do trips. Getting to laugh at jokes, debate World of Warcraft expansion news and goggle in awe at the scenery made the flight torture worth it.
We ran into a sudden snowstorm on our way through some mountains and so we went from Fall to Winter in the span of an hour. It also gave us the chance to see vistas kissed with snow once the sun re-emerged and then fog that would put Silent Hill to shame rising off the scrub grass.
Stopping on roadside stuff wasn't really a highlight of the first day but we did get to experience the creepiness of truck stops. Including one in Beaver, UT, which yes, did have "I Heart Beaver" merchandise. I felt like mentioning that because I'm actually 12.
We pulled into St. George, Utah by the time it was dark and stayed there for the night, enjoying a part of our first day that didn't involve being cramped.
Day 2
I do not sleep well in hotels. Either the temperature isn't right or the blankets are too heavy or I am really uncomfortable. Despite only getting a handful of hours of sleep the day before and being so exhausted by travel and adrenaline, I still woke up at 4 AM with no ability to go back to sleep. I meandered around the hotel parking lot in the deep chill of the night and waited for the lobby's complimentary breakfast to go up at 6:30 AM. Once the sun lightened up the sky some, I noticed that our town had a giant red cliff ridge directly above us. Talk about surprising.
We managed to get back on the road again by 8 AM for our second and slightly more exciting leg of the trip to Anaheim. The views were largely as expansive and inspirational as the first day but once we passed through the large mountain range nearing the Arizona and Nevada borders, we came across way more high desert flats. It was very Night Vale-esque for those of you who listen to that podcast, and suddenly the sights got a lot more weird. Tiny burned out shanty towns dotted the shrubby plains, odd roadside attractions and places that had only one stoplight or one church and nothing save for trailers seemed to be the norm.
We skirted around the outside of Las Vegas and it didn't disappoint even if we didn't stop. I got to see some of the glittering towers of gambling, the pomp of roller coasters and elaborate facades.  Alex commented on how most of the names we were seeing on signs also appeared in Fallout: New Vegas and I can see why. The idea of a post-apocalyptic game taking place in the desert of Nevada seemed all too apt. Given the number of ruins of old tourist attractions that we saw littered on our drive, it almost felt like we were  in the game already. (We made a plan to visit the grafitti-ed shell of a waterpark that we passed somewhere around Minneola, NV on the drive back)
Then we saw it: A giant road-side ad for Alien Fresh Jerky. Given both our propensity for good dried meat and the strange, we decided to follow that lead all the way into Baker, California where the jerky was to be found. Our questions were pretty routine – "Do the aliens make the jerky or are they what the jerky is made  out of?"
In a town that literally one road with a handful of greasy spoons, burned out trucks and bluffs, there was one shining beacon of tourist hysteria: Alien Fresh Jerky. It was a clean looking establishment with a made-up alien car, spaceship and promises of jerky on the inside. Once we stepped into place, we know why we went to all this trouble to get there. Sure, it was mostly overpriced food and tzotchkes of dubious provenance, but the excitement was being a participant of something this bizarre. We all love a good story to share and this is precisely why roadside ghost towns, giant balls of twine and houses filled with baby dolls continue to excite. We tried some invisible jerky, bought relics with alien faces for too much money and giggled at all the paraphernalia.
From there we sped on towards California proper. We stopped in Barstow, which was an official Route 66 stop and got to peer inside of a traincar shopping center and racist gas stations.  Finally we started to hit places that were familiar to me, as I had driven to Blizzcon from Arizona three years ago and it felt properly SoCal with the tiny oases of planned communities with palm trees dotting the crispy landscape.
Once we finally made it Anaheim, we promptly dropped our stuff off and went to peer at the convention center. Much to our surprise, there had been a lot of landscape work done. The entire front of the center that used to be a glorified taxi park and car-driven death trap for pedestrians in a hotel corridor was now this beautiful walkway with recessed lighting, statues and sculptures. There's even a new fountain in front that lights up blue and white, with heavily graduated steps that take some climbing to get to. It feels like a much cooler place to meet up, hang out or take pictures now and while I know that it wasn't really for that intent, it still makes this already magical voyage look the part. We took our pictures and went to finally relax.
I'm fully hyped for what the convention proper has in store now after that long, strange trip.