It's not the end, not really.
—
A lot has changed since even the last blog post here. Funny how things can spin off of orbit when you're not looking, but I need to be honest, I've been slowly rolling out of Warcraft's gravity for the past 6 months or so. What makes me sad is that I didn't want this to be the way it all fell apart – I wanted that day to be graceful and far off in the future, when I was good and ready to put the game away because I had outgrown it, that it no longer satisfied me and I wanted to move on to something else. What's sad about that is that honestly, a bitter and slow decline would have been easier to brush off. Being forcibly ejected from something I have loved for so long means I look back on all the time I spent with regret and my present time now with confusion. I was moderately happy before Blizzcon, even with some of the problematic behavior. But it's hard to take a good look at a property and realize that you don't really factor into it at all, no matter how happy you've been in that world.
I know some people have called me "toxic" or "extreme" in terms of my particular strain of feminist critique, but at the end of the day, I am a nerd just like the rest of you and feeling shunted off to the side awakens some pretty old, dismal feelings. I have played World of Warcraft for 9+ years because I really and truly loved it. I became friends with my now-boyfriend here, I was part of the same guild that I first joined in Vanilla until now. I have thousands of screenshots, memories and achievements. I was a World of Warcraft player long before I was truly a feminist. I met amazing women via this game and it's what lead me down that path in the first place. So in that way, the intense irony of that ideology making me realize that video games are still a hostile and alien place for marginalized people is not lost on me.
It's just sad.
Still, I can't say World of Warcraft is a bad game. It's not. If it was, I wouldn't have stuck around for so long. It has a great many stories and places that I wish I could relive over and over. It has a lot of people who worked on it/are working on it that truly love the franchise and truly put an amazing amount of effort into it and have made me feel like part of the community. To Tseric, Caydiem, Ghostcrawler, Nethaera, Zarhym, Terran Gregory, and Helen Cheng, thank you for making my tenure with Warcraft so pleasant. Even though some of you haven't been at Blizzard for a while, your presence left an indelible mark on me.
To my guild, Northrend Commonwealth, I will miss you. Granted, I have most of you friended on Twitter and I suspect we're going to be friends well into our twilight years, but you made being in a guild amazing. Not just present members, but everyone who helped me out from when I was just a tiny mage wearing INT/SPI gear (back when that wasn't good, before it was good, then bad again). To my raid team who took me to Molten Core and beyond. To everyone who showed up on the guild's doorstep four years ago and made it what it is today.
To everyone in the World of Warcraft community, I salute you. You have made my time as a Warcraft blogger and podcaster special and it's been wonderful getting to break down the game with you all, sharing the highs and the lows. Some of you don't particularly like me much, but I see it much like being a family, except now I'm not innately responsible for your well-being. Maybe I never was.
That screenshot up there was taken in 2006, after I had started raiding Onyxia and Molten Core. Featured is Bunny, my first epic mount and second mount ever. I spent so much time grinding out Ironforge rep with runecloth and Alterac Valley just to get you, and you are still one of my favorite mounts, even though I haven't ridden you in a long time. I figured it'd be fitting to go out the same way I came in, in the spot I promised myself I'd settle Aislinana down in for a long winter's sleep. I used to climb around here when I was level 10 and it was impossible to get up here unless you were a good wall-climber and jumper. I used to take people here and it was my special spot. Now anyone can fly up here but I still consider it a place that's just uniquely mine. Funny how that works.
I tried really hard to believe that if I was a strong enough person, it could fix things. The world is far more complicated than that.
Anyways, I've put off the inevitable with more words that necessary. I will see you folks around. The blog is staying, even if I will not be covering Warcraft explicitly anymore. I will still be around, for better or worse. You're not rid of me yet. This was just a eulogy for something that should have never died.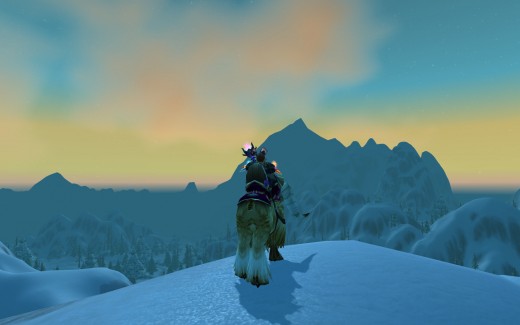 – Nico, otherwise known as Aislinana the Gnome